The Strategic Internet Marketing Approach
Common Goals:
Increase Profits
Lower Costs
Market Research
Customer Service
Optimize Business Processes
A commercial website should be designed to reach a certain goal. Most often, it is supposed to turn a profit, but other goals might be significant as well. We have listed some of the common goals on the right hand side of this page. In order for the website to reach its full potential various aspects need to be taken into consideration. It's imperative that your business staff has up-to-date knowledge of:
Your industry
Your environment
And Internet marketing practices and strategies
Success depends on many factors, but is guaranteed if you adhere to the following steps. This really is a time when a meticulous approach is necessary. Implement and optimize all the steps and your eventual success is a certainty. Neglect any of the steps and the efficiency of the website may be diminished. This may only result in a minimal drop in profitability but, in the worst case scenario, your project could cost you more than it ever returns you.
The red line in the following illustration can be compared to a series of simple electrical connections. All are necessary if the aim is to keep the last bulb aglow. In our case, the last bulb represents the desired state of success. Naturally you want that bulb on and burning bright.
1.
Analyze & Plan
Off-Site Factors
2.
Implement & Optimize
On-Site Factors
Industry Research
Competition
Customer
SWOTs
Marketing
Link Building
Viral/Social Marketing
PPC Marketing
Email Marketing
Affiliate Marketing
Article Marketing
Ease-of-Use
Site Loading Speed
Navigability & Clarity
Usability & Flow
Accessibility
Content
SEO Optimization
Customer Focus
Quality & Competence
Eloquence
Originality
Psychology/Personality
Design & Presentation
Impact
Credibility
Suitability
Multimedia (Video, Audio, Animation)
Success Success is guaranteed if all steps are followed meticulously.
---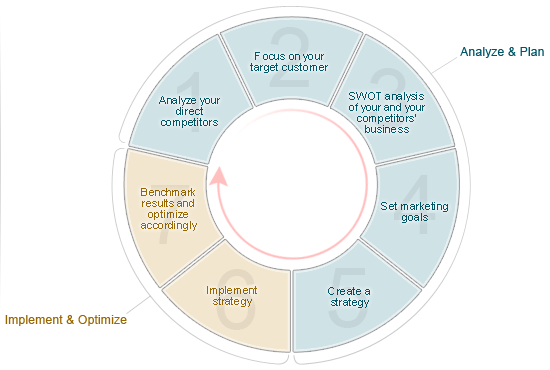 Guideline to Success
We recommend to approach an online business in the following way in order to devise a plan for success:
Analyze & Plan OffSite Factors

Analyze your direct competitors
Focus on your target customer
SWOT analysis of your and your competitors' business
Set marketing goals
Create a strategy

Implement & Optimize OnSite Factors

Implement strategy
Benchmark results and optimize accordingly
Every step you take along the marketing path is important in its own way. In fact, one without the other can easily be rendered meaningless.
The more resources you devote to one aspect (or step), the higher the probability that your well-planned strategy will pay off in the long run. Take note though, the art of allocating resources in a meaningful and effective way is key to creating the best results. If one step is neglected or under-budgeted, your new Internet marketing strategy, however good your initial intentions, may well be jeopardized.
For example, if you allocated 80% of your set budget to the first segment "Analyze & Plan", you might eventually run into trouble executing the Internet marketing strategy with only what's left of the original budget. This often leaves you with no other option than finding cheaper suppliers or service providers, who might not produce the expected results necessary to tap the full potential of the strategy. On the other hand, if you allocated next to nothing to the planning and analyzing of your environment, you might spend parts of your budget on unnecessary things that eventually will have no positive effect whatsoever on your bottom line.
The two examples mentioned above represent the two major mistakes people make when allocating a set marketing budget. You can avoid these mistakes and plan ahead. Unfortunately, there's no written rule about how much you should actually allocate to each individual step. It really is dependant upon the business you are in, the knowledge you have of your market so far, as well as your common sense.
Strategic Internet marketing is the primary focus of SRS Solutions. We are passionate about achieving success.
Learn more about: